Longstanding Expertise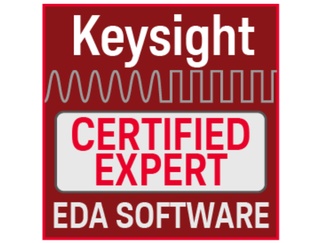 Hermann Ruckerbauer selected as Keysight Certified Expert
EKH is proud that in february 2013 Hermann Ruckerbauer was nominated and selected for the Agilent (now Keysight) Certified Experts program. Keysight selects highly skilled users of their electromagnetic simulation software ADS (Advanced Design System) for this program. Hermann Ruckerbauer started using ADS for DRAM interface and high speed serial link simulations 15 years ago and developed a high level of expertise on the specifications of these links and the usage of ADS for such applications. Beside signal integrity ADS allows simulating power integrity and delivers highly accurate results for simulations in the frequency as well in the time domain.
More information can be found here.
EyeKnowHow serves as consultant in the area of signal and power integrity. This allows easy access to the tool, the KnowHow and the high level of expertise for all customers. Beside the knowledge on the tool and the background about signal and power integrity EKH delivers also a very high level of expertise in measurements with high end equipment.
15 years of experience in high speed measurement
Realtime scopes
Sampling scopes for

TDR

/TDT (and normal time domain) measurements

VNA

measurements

BERT

pattern generation and test implementation
Bench test equipment for memory tests
Programming of automated test routines in Keysight

VEE

and Labview
10 years of experience in high speed signaling simulations
Know-how in many different simulation and modeling tools with focus on Keysight

ADS

Proven correlation between simulation and measurement by test board designs and real world applications
Development of new memory interface standards up to DDR5 within

JEDEC
Image Gallery
Downloads